We can get your New York City Marriage Certificate in just a few business days!
Do you need official copies of your New York City Marriage Certificate, or do you need your New York City Extended Marriage Certificate with an Apostille for international use?
NY Notary Public Services can take care of the entire process for you whether you live outside New York, need your NYC Marriage Certificate faster than Vital check (6-8 weeks), or just don't have the time to get it yourself.
Step 1


Email

This email address is being protected from spambots. You need JavaScript enabled to view it.

to let us know your request.
1. Extended Marriage Certificate (only)
2. Extended Marriage Certificate with Apostille (indicate country)

The email should include your full name, phone number, the number of requested copies, and where the completed copies should be sent.

Step 2


We will email you a quote/invoice for the requested service. Upon confirmed payment, we will email you a packet that includes form instructions, the New York Marriage Certificate request form, a third-party consent form, and mailing instructions.

Step 3


We will email you the completed documents, and mail the originals with tracking to the address you provided. International shipping is available.


Extended Marriage Certificate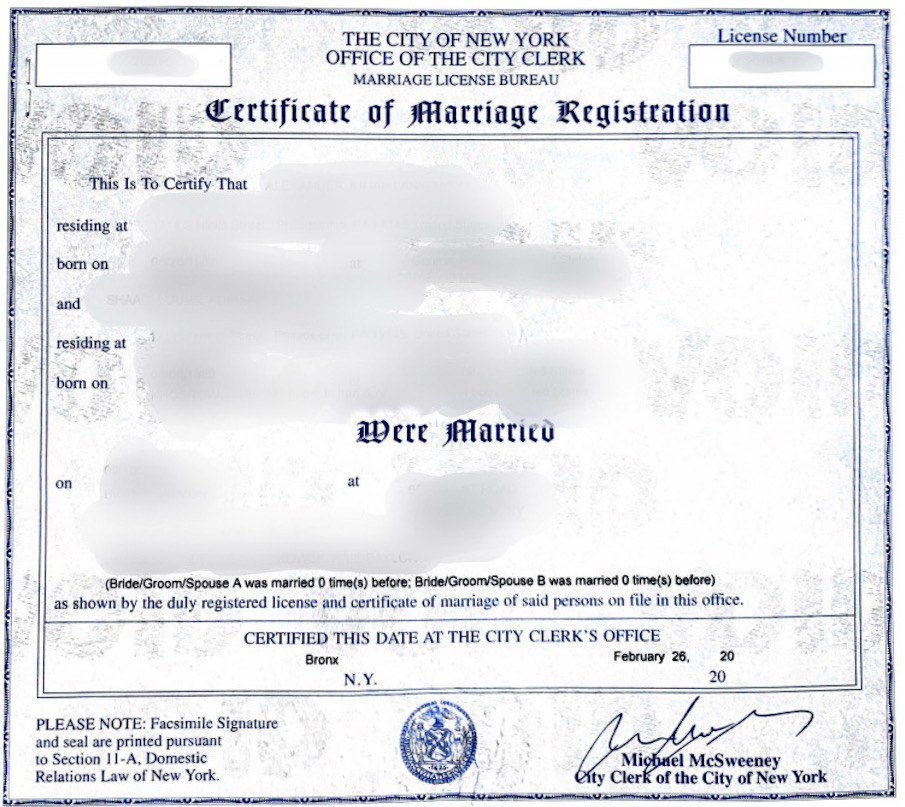 An "Extended Marriage Certificate" refers to an extended version of the Certificate of Marriage Registration that includes additional information such as the names of both parents and their countries of birth, the name and title of the Marriage Officiant, and the name and location of the place where the Marriage Ceremony was conducted. Depending on whether the marriage took place before or after 1995, the extended certificates will be printed on the same two forms as used for short certificates. The extended version is typically used in foreign jurisdictions in connection to applications for adoption, passports, and dual citizenship, among others.

For more information call 917-453-7358.